If you are looking for paint spraying products including some exclusive components at a reasonable price, you must try Wagner 0518080. This sprayer helps to spray where more control and less paint is required. It's an ideal tool for hobbyists, newbie, do-it-yourselfers and homeowners who want to accomplish the task of painting in an easy way because it's perfect for home projects and flawless painting.
People with less experience of spraying mostly prefer this sprayer. It's a good spray, but if you are going to compare it with advanced level HVLP sprayers, then you may find it's not that efficient. However, most beginners are satisfied with its output for indoor and DIY projects. If you have never done paint spraying before, it allows beginners to do it simply. You need to follow some steps to get the job done smoothly.
Wagner 0518080 reviews – A Quick Features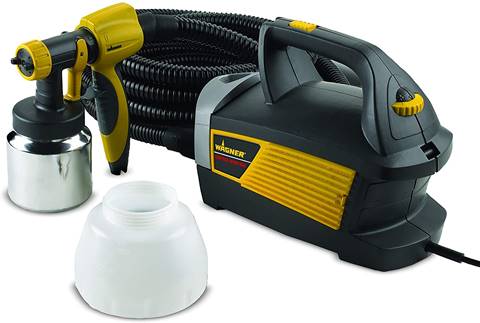 Wagner is one of the top brands in the paint sprayer marketplace, which focuses on customer satisfaction with affordable prices and reliable models which are very common with domestic and do-it-yourself users. This control spray max HVLP sprayer is a multi-dimensional and multi-purpose paint sprayer with flow control, spray patterns, air filters and a flexible air hose. Having a powerful turbine can handle variable material from thick to thin. It is easy to handle due to its lightweight and you can pour the paint easily for its front end opening.
Let's have a look at some of the key features of the Wagner 0518080 paint sprayer to help you get an idea of its capability.
1. Two-Stage Turbine
While working with a paint sprayer you need to spray a variety of different paints, primers, lacquers, and stains as the painting category required. Some paint needs thick materials, whereas some need thin materials. This sprayer's two-stage turbine makes this task simple as it can easily tackle any kind of materials like thick material as well as thin material.
In addition, you can also handle a wide range of painting tasks with this item. Adjustable flow control allows you to work from a large spray surface to more detail-oriented projects like painting small pieces, woodworks, trim or windowpanes.
2. Dust Filters
With earlier paint sprayers users faced the problem of dust getting into a painting which caused poor finish in the painting job. But Wagner control spray max adds filters to prevent this problem. It has two air filters that prevent any dust or dirt from getting into the mix of paint which confirmed to get a clean spray.
This unit features these two large filters to ensure that the spray gun will pumps out only paint. These dust filters of this sprayer can produce a more refined finish than some other sprayers in this price range.
4. Adjustable Spray Patterns
To get a perfect painting job, you need a different type of pattern to paint. With this lightweight and powerful handy tool, you can set up the pattern type in just a minute. It provides a cup that helps you to measure the quantity of the material you're using and adjust the spray pattern as required. By the spray nozzle just turn the air cap as you wanted like a round, horizontal, or vertical pattern.
5. What's in the Box
You will get a variety of equipment with this sprayer to make your job easy. It attached a metal spray gun, a powerful two-stage turbine, air pressure control, spray patterns, air hose, Lock-n-Go front end, two air filters and of course the user manual.
FAQ
How good is the warranty on this product?
The warranty is comparatively good. You will get one year warranty of limited coverage from the manufacturer.
Can this be used with oil paints?
Yes. There is no restriction on paint materials. So you can use oil-based paint. For cleaning after using oil-based paint use mineral spirits.
Does this tool require an air compressor?
No air compressor is needed. It's a self-contained electric.
Final Thought
In the end, for a beginner or user who wants to do some DIY paint job, the Wagner 0518080 Sprayer is a great choice. For its lightness, affordability and versatility it is a highly recommendable product for multi-purpose usage. Despite the small shortcomings, it is pickable for simplicity, low tech, easy to use and clean options.
Though you will not get the convenience like high-tech HVLP sprayer, it works as promised. According to the range of price, it is more suitable for its functional qualities. However, it still depends on your decision to rate the performance of paint sprayers according to your need and expectation.